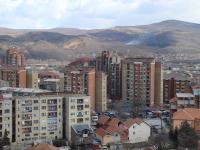 KOSOVO
A violent clash broke out in Mitrovica last night, with groups of Serbs and Albanians hurling stones at each other. No injuries were reported.
The incident is believed to be linked to a fight between groups of Serb and Albanian youths at a football match on Wednesday, which left six Serbs requiring medical treatment.
"Around 1900 [hours], Kosovo police were informed of an incident in Kodra e Minatoreve. Police did not meet anyone there and there are no injuries reported," Besim Hoti, the Kosovo police spokesperson for Mitrovica said.
"Later on, around 2200 [hours], two explosions occurred in the Kodra e Minatoreve suburb. Kosovo police and KFOR [Kosovo Force] could not specify the blasts' locations, but it is believed that the explosions happened in an open field," Hoti added.
Meanwhile, the reconstruction of Albanian houses has resumed at Kroi i Vitakut/Brdjani in Mitrovica, under the supervision of Kosovo police and an EU rule of law mission, EULEX, police unit. The work has resumed on the basis of an agreement with EULEX and the UN mission in Kosovo, UNMIK.
Hoti said: "The cleaning of the site and reconstruction of houses is continuing and the situation is calm. Kosovo police and the EULEX police unit is there. KFOR is also present with a wider security perimeter."
The house reconstruction project was postponed for some time due to Serb protests.
The current reconstruction phase will see some 25 houses reconstructed and there are plans for the rebuilding of another 100 houses in future.