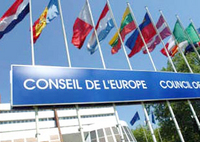 GEORGIA
Council of Europe calls on entry of the international observers in Georgian occupied territories because human rights are often violated in these regions. This requirement was announced at the meeting of the CE Parliamentary Assembly on September 7, TV company "Imedi" said.
Several PACE members are critical towards Russia. Human rights are often violated after the international missions left Abkhazia and Tskhinvali, MP Corinne Jonker told media before meetings of the Bureau.
"The biggest problem is that the international organizations are not eligible to enter Abkhazia and South Ossetia. Since I work in human rights sphere, I do not interfere in political confrontation. The purpose of our organization is to have the right to work there. Nobody knows what is happening there, how rights of Georgians and Ossetians are violated. The entire international community is concerned. It is necessary for our organization to be allowed to work there and our officers to be able to fix human rights violation that have occurred in the Gali region, " Jonker said.
It will be known when Georgia-Russia political debates in the Council of Europe will take place after the meeting of the PACE bureau is completed. According to the preliminary information, they can be scheduled for September 28. A final decision on whether EU will impose any sanctions on Russia at the same session.
There is also the CE Monitoring Committee's conclusion on Georgia, concerning the year since the August war. Stamp "confidential" will be withdrawn after September 30. Russian MPs said that this conclusion is a part of a horror movie, because it contains a lot of Russian criticism.