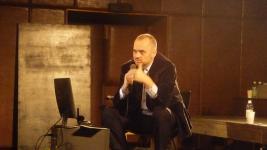 ALBANIA
Albania's opposition Socialist Party boycotted the first session of parliament on Monday, and says its will maintain its absence unless its demands are met.
Speaking to reporters on Tuesday, the head of the party, Tirana mayor Edi Rama, warned that the Socialists would have a conditional relationship with the assembly, based on the will of the majority to investigate electoral fraud in the June 28 parliamentary elections.
"We want transparency in the election [process] and under these conditions will intensify our contacts with the citizens, because we cannot accept a deformed reality," Rama said in a press conference.
Earlier on Sunday, the opposition leader had justified his party's decision to boycott the assembly, calling it an "institution without legitimacy".
The Socialists are contesting the results of the parliamentary elections, saying they were marred by electoral malfeasances and undue pressure by the government on public sector employees to vote for the Democratic Party of Prime Minister Sali Berisha.
The Socialists have also accused the government of ordering the release on leave of a number of dangerous criminals from prison on the eve of the ballot, in order to pressure voters.
Both allegations are denied by Berisha, who claims they are motivated by Rama's need to control his own party after the Socialist's electoral defeat.