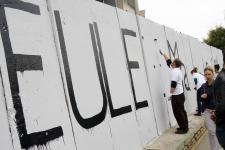 KOSOVO
Kosovo self-determination movement Vetevendosje repainted its "EULEX made in Serbia" slogan on the wall in front of the EU rule of law mission, EULEX, headquarters on Monday, after the mission painted over the previous graffiti.
The hardline nationalist movement says this act expresses their revulsion for EULEX.
"We wrote EULEX made in Serbia […] because it is clear that we are dealing with a mission that is always taking away Kosovo's [sovereign authority] as a country, with the aim of collaborating with Serbia," Vetevendosje activist Glauk Konjufca told local daily Express.
The movement claims that EULEX has started to impose the six-point plan recommended by UN Secretary General Ban Ki-moon, which empowers Serbia in policing, customs and the courts, despite the Kosovo government's adamant opposition.
Konjuca also warned that Vetevendosje will be organising massive protests against the EULEX moves.
This is the third time Vetevendosje has painted the slogan on the wall that surrounds the EULEX headquarters.
A Kosovo police spokesperson said a vandalism case has been opened, but no arrests have been made.
Local media reports say that Kosovo police vehicles frequently drove past the activists as they were painting the slogan but did not intervene.