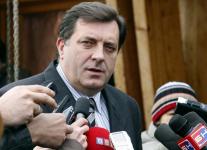 BiH
The ruling political party in the Serb-dominated Bosnian entity of Republika Srpska has rebuffed what it claims is the international community's political plotting and meddling.
"Certain circles from the international community are trying to gather and activate certain groups that work on the destabilisation of Republika Srpska," said Milorad Dodik, Republika Srpska premier and president of the ruling Alliance of Independent Social Democrats, SNSD.
Speaking after a meeting of the SNSD's Executive Board on Monday afternoon, Dodik alleged that this destabilisation effort and continued political meddling now comes in the form of a new push by Western states for the continuation of constitutional reforms. Such reforms could include the overhauling of the entity voting system established under the Dayton Accords.
Dodik and the SNSD board rebuffed the possibility that entity voting could be ended or altered and expressed pessimism that any constitutional reforms are possible only a year out from fresh general elections in Bosnia.
Local media speculate that these and other comments from Dodik and SNSD officicals are targeted at Bosnia's Deputy High Representative Raffi Gregorian.
Referring to the Office of the High Representative, Dodik stressed that for him and the SNSD "only High Representative [Valentin Inzko] exists, despite some activities and statements from some members of that office, whose attitudes are not relevant."
Dodik and Gregorian have clashed repeatedly in the past. Over the weekend the US diplomat told reporters that Bosnia cannot hope to progress on its path towards EU and NATO membership without seriously overhauling its constitution.