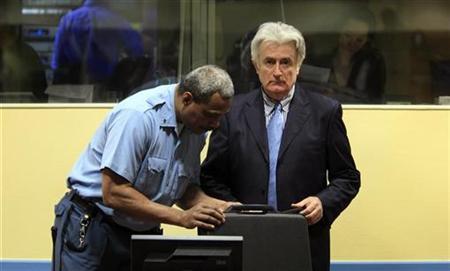 HOLLAND
Former Bosnian Serb leader Radovan Karadzic could go on trial as early as October 19 for war crimes and crimes against humanity, the pre-trial judge of the tribunal overseeing his case said on Tuesday.
Karadzic, the most prominent figure being prosecuted for crimes during the 1992-95 Bosnian war, asked last week for the trial to be delayed by at least 10 months. Captured just over a year ago after 11 years on the run, he is representing himself.
Judge O-Gon Kwon proposed a start date of October 19, assuming that all pending filings are resolved by then, and scheduled another pre-trial conference for October 6.
The trial, which Kwon said should take no more than two and a half years, will take place at the International Criminal Tribunal for the former Yugoslavia in The Hague.
Kwon did not grant Karadzic's request to delay the start of the trial, but instructed prosecutors to make more cuts to the scope of their case against Karadzic.
Karadzic faces 11 counts of war crimes and crimes against humanity, including two of genocide. Karadzic and General Ratko Mladic, who is still at large, face genocide charges over the 1995 Srebrenica massacre of 8,000 Muslim men and boys and the 43-month siege of Sarajevo.