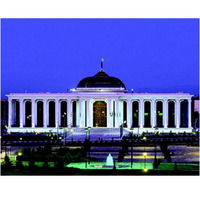 ROMANIA
The delegation of the Turkmen Majlis (Parliament), headed by the chairman of the Majlis Akja Nurberdiyeva will visit Bucharest on September 15-18, 2009 to develop inter-parliamentary relations.
Turkmen President Gurbanguly Berdimuhamedov speaking about importance of inter-parliamentary relations at the state conference stressed the need in further strengthening of mutually beneficial cooperation with European countries, including Romania, the governmental press service said on September 10.
He also stressed special importance to establish modern, national-legislative base.
He said that this task is one of the key aspects of successful advancement towards radical changes.
During the meeting Nurberdiyeva reported on the work to further improve the national legislation. She reported that work to prepare new bills given provisions of the new version of the Turkmen Constitution adopted a year ago is held.