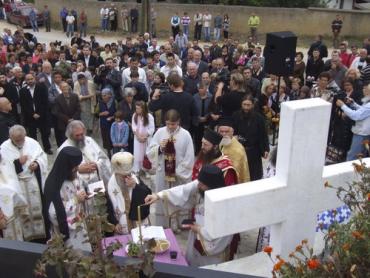 KOSOVO
Some 200 Serbs attended a dedication ceremony in Velika Hoča of a memorial honoring the kidnapped and murdered Serbs.
The gathering on Friday, commemorating the Serb victims from the Kosovo municipality of Orahovac who perished or disappeared from 1998 until 2000, was attended by representatives of the International Committee of the Red Cross, and saw a large number of EULEX police and KFOR soldiers provide security.
Serbian Orthodox Church Bishop Artemije and priests first served liturgy at the site. The bishop criticized the Kosovo Albanian authorities for not allowing 87 Serbs, whose family members were kidnapped or murdered and who now live in central Serbia, to reach the memorial.
"This kin of ours perished innocent for truth and God's justice, at the hands of criminals who thought that by severing their heads, they would destroy the name of God, the name of our people, the name of the Serbs and the name of the Orthodox people in these regions," Artemije addressed those gathered.
Preventing the families of the victims from attending, he continued, constitutes for "another crime toward those people".
State Commission for the Missing Persons President Veljko Odalović, who was with the group of Serbs turned back by members of the Kosovo police, KPS, but who was later allowed to reach Velika Hoča, said that the commission has a list containing the names of 537 persons, whose fate remains unknown.
He said that in order to learn what happened to the missing, new information about possible grave sites is needed, but added, "it seems to me someone is impeding further investigations".
Odalović told those gathered that the Serb side pointed to a location in Belaćevac that is believed to contain the remains of some 20 victims, but that the exhumation at the site is being postponed, with lack of money cited as the reason.
A representative of the Association of the Families of the Missing and Kidnapped, Negovan Mavrić, told Beta news agency that 84 Serbs, Romas, Ashkalis and Egyptians were kidnapped in the Velika Hoča region.
The memorial made of grey stone, two meters high and some ten meters wide, is nestled in a hill, and is located in front of a church dedicated to St. John.
At its top stands a cross, and above it, the Serbian flag.
The monument has a mosaic depicting the image of St. John, and plaques – one for each victim – with engraved names of those kidnapped and murdered.