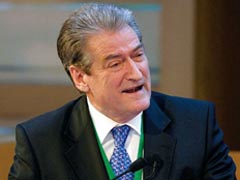 ALBANIA
Albanian parliament voted Wednesday to approve the Prime Minister Sali Berisha's new government.
Berisha's chosen ministers were confirmed by parliament late Wednesday in a 74-1 vote. The deputies of the opposition Socialist Party boycotted the session, demanding a probe into the results of parliamentary elections, which they say were manipulated.
The new government is comprised of 15 ministries, of which 11 will be run by the ruling Democratic Party, three ministries will be run by government ally Socialist Movement for Integration, and one by Republican Party, the third ally in Berisha's government.
IIlir Meta of the Socialist Movement for Integration has been named a deputy prime minister and minister of foreign affairs. Lulzim Basha will take up the post of minister of interior. Arben Imami will take up the post of minister of defense.
Berisha, introducing his government to the parliament Wednesday, said the new government's top priority is to press ahead with Albania's integration into the European Union, step up the fight against corruption and foster the country's economic development.
PM Berisha called on Socialist Party leader Edi Rama to end the boycott of parliament. Socialists secured 66 seats in the 140-seated parliament.
Vangel Dule, the deputy of Human Rights Party – an ally of Socialist Party – criticized the government's programme, saying it lacks a strategy to address the rights of ethnic minorities in Albania, a country aspiring for EU membership.