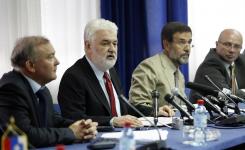 SERBIA
Serbian Prime Minister Mirko Cvetkovic has said that unresolved issues remain five years after an agreement of five former Yugoslav states took effect. A two-day meeting of representatives of the five successor states – Bosnia and Herzegovina, Croatia, Macedonia, Slovenia and Serbia – has started in Belgrade.
The Agreement on the Succession of the former Socialist Federal Republic of Yugoslavia, SFRY, was signed in Vienna in 2001 and came into force three years later, upon ratification by all successor states.
Serbia's High Representative for Succession, Gaso Knezevic, told Tanjug news agency that more than 95 per cent of the assets of the former SFRY had been distributed among its successor states, and that remaining unresolved issues are related to old foreign currency savings accounts, mixed banks, military properties and state archives.
"Faster implementation of the agreement [is] a prerequisite for the successor states to join the EU faster," the broadcaster quoted Cvetkovic as saying. He expressed hope that some of these issues will be resolved at the meeting.
In the last meeting, which occurred two years ago near the Slovenian town of Kranj, Slovenia brought up the issue of hard currency savings, precipitating a war of words between Ljubjana and Zagreb.