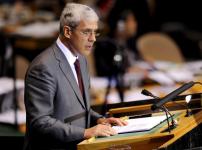 SERBIA
President Boris Tadic is to lead the Serbian delegation attending the 64th UN General Assembly meeting in New York next week, daily Blic reports.
Blic reports that the president will meet US counterpart Barack Obama on September 23 at a reception. One of the Serbian delegation's priorities is to improve bilateral relations with the US, the newspaper reports, citing members of Tadic's cabinet.
The delegation will also attend several dozen meetings with other state representations, in which bilateral relations, economic coooperation and efforts to safeguard the sovereignty and territorial integrity of Serbia will be discussed.
Serbian Foreign Minister Vuk Jeremic, who will join the delegation, told Pink television station that Tadic's statement at the UN plenary session will focus on the world economic crisis and climate change, since these are the central themes of this year's meeting.
He added that he has been informed of Pristina's preparations for the session, which, he alleged, are being helped by certain countries, lobby groups and NGOs.
"Some lobby and business circles that support Pristina have been active. Tons of money has been sent to various capital cities," Jeremic claimed in his interview with the television station.
Thus, the Serbian delegation has a difficult assignment for the session: to identify the countries that are being pressured to recognise Kosovo's independence, the minister said.
Jeremic claimed that, in terms of financing, Serbia cannot compete with Albanian lobbyists, but added that Belgrade has international law on its side along with precise and clear political argumentation.