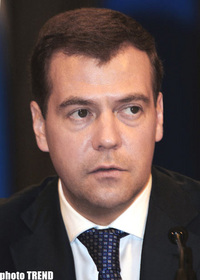 Russia and the United States could agree on a new treaty on reducing their nuclear arsenals by December, Russian President Dmitry Medvedev said on Wednesday after talks with U.S. President Barack Obama.
"The work is under way," Medvedev told reporters. "A good start allowed us to hope that our teams will cope and in due time (December) we will have a document."
Later in his speech to the U.N. General Assembly, the Russian leader said he and Obama viewed "verifiable and irreversible reductions" of nuclear weapons as an essential element in the improved relations between the two countries.
The two countries hope to agree a new treaty to replace the Strategic Arms Reduction Treaty (START), which expires in December.