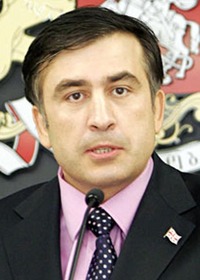 Georgia is "a nation with a deep wound running through her" since fighting broke out last year with South Ossetian and Abkhaz separatists and their Russian allies, its President told the General Assembly tonight, vowing that he and his people will never accept "a new dividing line in our country", UN News Centre reported.
Mikheil Saakashvili told the Assembly's General Debate at UN Headquarters in New York that "the new wall that cuts across our territory has transformed Georgia to an idea and a test. An idea of freedom and independence, and a test for the world. A test the world must not fail."
Mr. Saakashvili said that since the deadly fighting erupted in August 2008 the "wall cuts off one-fifth of our territory." He pledged that his country would "tear down this new wall peacefully – with the power of our ideas and the strength of our convictions."
South Ossetia and Abkhazia have each declared their independence from Georgia, and Russia and some other countries have recognized those declarations. But Mr. Saakashvili said he wanted to thank "all those nations across the globe that resisted illegality and pressure by standing firm in their non-recognition of those territories of Georgia now occupied by a foreign force."
He also voiced gratitude for the financial support provided for Georgia's reconstruction and for assistance to the population of internally displaced persons (IDPs) that swelled after the conflict.
"We are resolutely committed to our vision of a sovereign and unified Georgia," Mr. Saakashvili stressed. "Together, with all of Georgia's diverse ethnic groups and religions we will prevail over this illegal occupation and reverse this ethnic cleansing."
Focusing on Abkhazia, he said that "Abkhazia today has been emptied of more than three quarters of its population. Gardens and hotels, theatres and restaurants have been replaced by military bases and graveyards. It will take time, but Abkhazia will once again be what it was: the most wonderful part of Georgia."