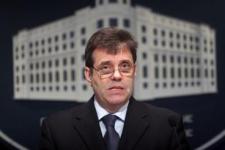 The leader of the Democratic Party of Serbia, DSS, and former prime minister Vojislav Kostunica says he will form a new political block, which will gather opponents to the government's current Kosovo and Vojvodina policies.
In an interview with Tanjug news agency, the DSS leader said that "the block will establish a different government that will be a reflection of the citizens' true position". He said he will gather opposition, some NGOs and "all who care about Serbia's progress".
Kostunica explained that the DSS couldn't cooperate with those who lost the country's southern province and are now calling into question its northern province of Vojvodina, through a new statute that will give the province greater autonomy, due to be adopted by parliament.
Spokesperson of the parliament Slavica Djukic Dejanovic announced on Tuesday that the Statute of the Serbian Province of Vojvodina may be adopted as early as October if it does not need any additional changes.
"The DSS has long warned of the excess of unconstitutional provisions within the statute, which turn Vojvodina from an autonomous province into a federal unit with elements of statehood," Kostunica said.
Two times prime minster and once president, Kostunica's party suffered a crushing defeat at the last elections.
Additionally, Kostunica rejected the government's invitation to participate in a national consensus for overcoming the implications of the economic crisis, and called for new elections.
"Early parliamentary elections are necessary in order to restore legal security in Serbia and establish a socially responsible government," the agency quoted Kostunica as saying.
A new government would strengthen the state, develop its economy and establish legal order, he added.
When asked who the partners of the new block would be, the DSS leader said the party has already signed an agreement with the Serb Progressive Party, SNS, on the basic principles of further cooperation.