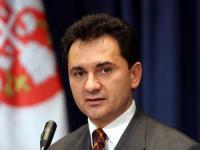 Serbian Deputy Prime Minister Bozidar Djelic announced that the government on Firday sent its official report to the European Commission showing that it has met all the conditions for the lifting of the visa regime.
Speaking at a round table titled "Towards the White Schengen List", Djelic explained that the report shows that Serbia has met all the conditions for the abolition of the regime.
Serbia had four technical conditions to fulfil by 30 September in order to qualify for visa free travel.
The minister said that the four conditions include: the implementation of a Law on Foreigners; the adoption of a National Migration Management Strategy; an action plan for combating organised crime and drugs; and the implementation of procedures for issuing biometric passports to citizens living in Kosovo.
According to Serbian Interior Minister Ivica Dacic, the government on Thursday adopted an action plan for the implementation of a national strategy on combating organised crime and drugs, and, thus, fulfilled the last condition needed for visa liberalisation.
Djelic stressed that the government wanted to submit an EU candidacy request by the end of the year but noted that this requires a consensus within the EU member states.
"Serbia's priority at the moment is the implementation of the SAA (Stabilisation and Association Agreement), but for that to happen, Serbia needs to continue cooperating with the Hague Tribunal," he pointed out.
Djelic speculated that Iceland may join the EU as a 28th member, Croatia as the 29th, while Serbia might be the 30th member state. He added that some Western-Balkan countries will join EU at the same time as Serbia.