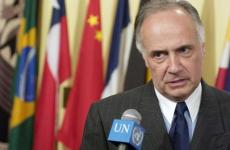 Russia's Ambassador to Serbia Aleksandr Konuzin has asked Belgrade to switch back street names to those of Russian soldiers that took part in the liberation of Belgrade during World War II, local media report.
The daily newspaper Blic speculates that the proposal comes ahead of a visit by Russian President Dmitry Medvedev to Serbia's capital on 20 October, where he is expected to attend a ceremony marking the 65th anniversary of the liberation of Belgrade.
It writes that the request for changing the street names was made at a meeting called "Serbian people remember heroes", which was held on Wednesday at the Russian House in Belgrade.
During the meeting, the Russian Ambassador reportedly said that following Belgrade's liberation, many of the capital's streets were given names of Soviet war heroes, noting that in the meantime the names of those streets were changed.
He nevertheless expressed satisfaction that people still call those streets by the names of the Soviet soldiers. Thus, for instance, Resavska street is still know by locals as Zhdanov, after the Russian general of the same name.
It is believed that after the Communists liberated Belgrade, it took them 48 hours to rename the city's downtown streets. The city government in 1997 reverted these new names back to their pre-war names.
The president of the city's commission for the naming of streets, Petar Djordjevic, confirmed for the daily that majority of Belgrade's streets received their pre-war names in 1997. "I cannot claim that the names of all streets connected with Russia were changed then and I do not know what the reasons were," he added.
In October, the Russian president will also attend a summit on his country's strategic partnership with Serbia. According to a Kremlin statement, the presidents of the two countries will have an opportunity "to discuss all issues relating to bilateral cooperation".