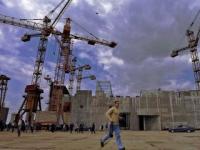 Bulgaria's Prime Minister Boyko Borisov will on Monday consult with the German power company RWE about its future role in the Belene nuclear plant project, following reports last week that it may quit the project due to rising costs, local media report.
Bulgaria's previous government chose the German power utility RWE to become a strategic partner in the Belene project with a 49 per cent stake.
Bulgaria intends to cut its shares in the project via its ownership in the state utility company NEK from 51 per cent to between 20 and 30 per cent, but still keep a decisive vote in the future of the company.
Under the previous government, NEK began talks with Russia's Atomstroyexport to build two 1,000 megawatt reactors. The government started talks with the Russian government on a 3.8 billion euro state loan and offered guarantees for it.
However NEK's poor results have forced it to breach the conditions on the loan, making it callable, the novotine.com newsagency reports.
When the new government took office this summer they said they will look carefully at the Belane project before taking further decisions.
On Sunday, the country's economy and energy minister Traicho Traikov, said his government is still analyzing the project, novotine.com reports, citing an interview for the Bulgarian TV channel Nova Televizia.
Traikov said that if his government fails to find a suitable investor, the nuclear plant at Belene will not be built.
He said his cabinet has the will to finish the project, but does not want to do it with taxpayer money.