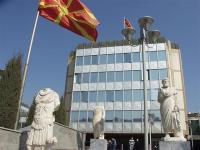 Several ethnic Albanian parties from Macedonia, Thursday will stage a protest in front of the government building to express their objections to the new publication of the Macedonian encyclopaedia.
Calling it a "political pamphlet" that "inflicted great evil upon the Albanian population" the parties say they cannot guarantee that all the protesters will take their advice and restrain themselves from burning the Macedonian flag as an act of "emotional revolt".
The organisers from the National Democratic Union and from the Party for Democratic Prosperity, two relatively small parties currently in opposition, said in a press conference they hold the government responsible for the encyclopaedia. The book calls the Albanians in the country "settlers", who came to Western Macedonia in the 16th century, and calls them "Shiptari", a term that is considered offensive.
Last week the former Albanian Prime Minister Pandeli Majko in a panel discussion on the Tirana based Klan TV said that "the Albanians (in Macedonia) have God's right to burn the Macedonian flag in the heart of Skopje", after the book was published.
The Macedonian Academy of Science that issued the book is funded by the state, and has already said it will revise the problematic passages.
But the Albanian parties, including the junior ruling Democratic Union for Integration, DUI, as well as high ranking officials from neighboring Albania and Kosovo have asked for a complete removal of the book and an apology from Skopje.
"If (Ali) Ahmeti (The head of DUI) decides, we are ready to leave our posts at once," DUI's vice president, Rafiz Aliti told media on Monday when asked whether his party is considering stepping out of the governing coalition it currently holds with the centre-right VMRO DPMNE party.
Macedonian Prime Minister and VMRO DPMNE head, Nikola Gruevski has distanced himself from the book, and on Sunday blamed retrograde forces in the country for the offensive passages.