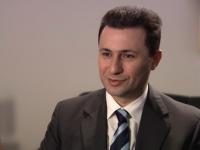 Macedonian Prime Minister Nikola Gruevski on Sunday distanced himself from the publication of the controversial Macedonian encyclopaedia, and blamed the offending pages in the book on "dark forces" who wish to harm his country.
Without pointing fingers, Gruevski said that the passages in the book saying that Albanians were "settlers" who came to Western Macedonia in the 16th century were written by "individuals and forces that have not reformed and who do not comprehend the reality – that Macedonia belongs to all of its citizens".
Gruevski said that each time his country stands at a crucial point in its progress towards EU and NATO some forces try to undermine its prospects. His government is hoping to receive a positive assessment from the European Commission next month that will enable his country to start accession talks with the EU.
After facing harsh protests by the country's approximately one quarter ethnic Albanians and raised eyebrows from neighboring Kosovo and Albania, the Macedonian Academy of Science who published the book said last week that it will correct the offending parts.
His junior partner in government, the ethnic Albanian Democratic Union for Integration, DUI, its leader Ali Ahmeti, as well as Albanian and Kosovo leaders, have all urged Gruevski to condemn the offending passages in the book.
Ahmeti himself was mentioned in the book as a "war crimes suspect".
In an interview for the Albanian Klan TV over the weekend, Ahmeti said that the controversial book has practically undermined the "2001 truce between the Albanians and Macedonians". He later said in an interview for Radio Free Europe that his party will not "add oil to fire".
"When somebody is offended, it will be good for both parties, regardless of their arguments, to resolve the problem via dialogue, understanding and mutual respect," Gruevski told media on Sunday, when asked to comment on Ahmeti's statements.
The Macedonian Academy of Science, who published the Macedonian encyclopaedia, has said that it will rewrite the disputed parts of the book. However, the local Albanian parties and intellectuals are asking for the book's full withdrawal and an apology.