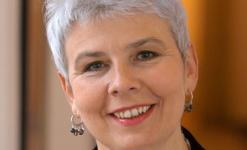 Croatian Prime Minister Jadranka Kosor could soon receive an invitation for an official meeting with US President Barack Obama at the White House.
Daily Vecernji list reports that Croatian and American diplomats are working intensively on setting up the Kosor-Obama summit.
Should it take place, Kosor would be the first Croatian official to meet Obama at the White House.
According to the daily, Obama's administration – Secretary of State Hillary Clinton in particular – is carefully monitoring political developments in Croatia and strongly supports the country's new prime minister.
Thanks to a call from Clinton, Croatian Foreign Minister Goran Jandrokovic should visit the State Department in mid-October.
Washington approves of Kosor's first steps in the fight against corruption; of her efforts in solving the border dispute with Slovenia; and of her response to the economic crisis.
The daily says Obama's invitation may constitute a strong signal to Brussels to open the EU's doors to Croatia.