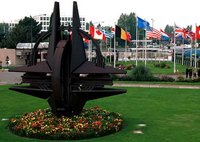 Georgia will hold the NATO Days on Oct. 5-9. Various activities, including conferences, meetings with students, non-governmental organizations and politicians, will be held during the event, the NATO Information Center reported.
A special delegation of the alliance will attend the NATO Days.
Representatives of the NATO Information Center and guests will visit Kutaisi, Batumi and Gurjaani, to hold meetings and other events during the Days.
The NATO Days will end on Oct.9 with "Marlene Dietrich" play at the Tbilisi Theater of Music and Drama.