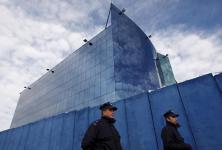 The International Steering Group for Kosovo, ISG, has praised the work done by the Kosovo government but says much more needs to be done.
The ninth meeting of the group was chaired by the EU representative for Kosovo, Pieter Feith, who commended the authorities for their efforts to demarcate the Kosovo-Macedonian border, which are nearing completion.
In the meeting, involving state representatives and Kosovo's president and prime minister, the ISG expressed support for Kosovo's gaining further international recognitions.
The ISG also called on Kosovo Serbs to participate in the upcoming local elections, while stressing that free and fair democratic polls are decisive for Kosovo's development.
The ISG underlined that the fight against corruption and organised crime is will have an impact on Kosovo's prospects for joining the EU, adding that the government has to double its actions against these evils.
Participants reiterated the urgent need for the strengthening of rule of law mechanisms in Kosovo.
The ISG also asked the government to support the privatisation process.
President Fatmir Sejdiu and Prime Minister Hashim Thaci discussed the progress made by Kosovo so far and agreed that much more is required.
The ISG incorporates 25 member states and is charged with supervising Martti Ahtisaari's status plan for Kosovo.