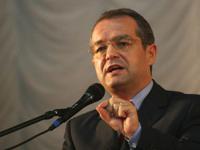 Romanian Prime Minister Emil Boc said on Tuesday that he is ready to resign if parliament does not approve an IMF-required pension law in an upcoming confidence vote.
"I'm putting my position on the line. Either the law is enacted, or the government steps down," Boc, who heads the Liberal Democratic Party, PLD, said
The draft pension law establishes the retirement age for women at 65 – the same as for men – from 2030. The retirement age for women will be increased by three months each year, starting in 2015.
Under the current public pension system, the average retirement age is 63.8 for men and 58.9 for women.
All special pensions will be integrated into the public system and will be recalculated, depending on people's contributions.
The government is to seek the confidence vote before the one-month presidential election campaign begins later this month, but will have difficulty in garnering the necessary votes in parliament, following the collapse of the former ruling coalition.
Social Democrat Party, PSD, ministers have resigned, leaving the PLD with a minority government. The PSD announced on Monday that it would support another opposition party's call for a vote of no-confidence in the government.