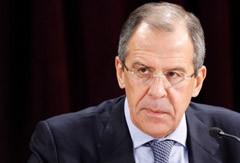 Russia is worried over the recent statements of the Albanian Prime Minister Sali Berisha suggesting that the unification of the Albanian countries (including Kosovo) should take place as soon as possible.
Russian Foreign Minister Sergey Lavrov expressed Moscow's concern over Berisha statements to his Serbian counterpart Vuk Jeremic, who is paying a visit to Moscow.
Lavrov pointed out that Moscow plans to help Belgrade to find a solution on the problem with Kosovo. The Russian minister said that the problem has to be resolved on the basis of the international law.
"Russia supports Belgrade's actions aimed at preserving the territorial integrity and sovereignty of Serbia," he added.
Lavrov also raised concerns over the developments in Bosnia-Herzegovina.
According to him, it is necessary to terminate the mandate of the High Representative in Bosnia-Herzegovina and to "leave to all sides full responsibility over their country."
"An EU Mission should replace the Office of the High Representative," Lavrov said.