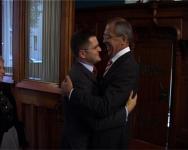 Their countries' strong bilateral ties will be further enhanced by the upcoming visit to Belgrade of Russian President Dmitri Medvedev, the Serbian and Russian foreign ministers say.
Serbia's Vuk Jeremic and Russian counterpart Sergei Lavrov agreed in Moscow that mutual relations have never been better.
Jeremic's trip to Russia comes ahead of Medvedev's state visit to the Serbian capital on 20 October. While in Belgrade, Medvedev is expected to attend a ceremony marking the 65th anniversary of the liberation of the city during World War II.
According to the ministers, Serbian and Russian representatives are to sign a series of bilateral agreements in Belgrade during the visit.
Jeremic pointed out that the Russian president's visit would be "an exceptionally important economic [event], as Russia is a big investor in Serbia".
"Economic cooperation between the two countries has been achieving major results in recent times," Lavrov said, stressing that Medvedev's visit would open "new points of reference" for developing strategic cooperation between the two countries.
Serbian President Boris Tadic requested financial aid in a letter addressed to Medvedev almost a year ago. Jeremic said that details of an upcoming Russian aid package and loans will be revealed during the Medvedev's visit.
Jeremic said that Serbian state officials back a proposal, made by Russia's ambassador to Serbia, Aleksandr Konuzin, that Belgrade streets, previously named after Soviet army commanders, revert to these appelations.
"It's part of our history and we are proud that we beat the fascist occupiers with our Soviet friends," broadcaster Mondo quoted Jeremic as saying.