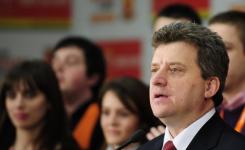 Athens and Skopje could reach a deal on their name row if they focus solely on finding a compromise appelation, Macedonia's President Georgi Ivanov says.
"Various non negotiable issues, such as Macedonian identity and language […] were included in the past talks," Ivanov told the chief editors of German media organs in a Tuesday meeting.
"We urge that the talks return to the basis of the UN resolution – that means to focus solely on the problem that Greece has with our name, […] then, a deal is possible," he said.
The two countries are embroiled in a long-standing row over Macedonia's name.
Athens demands that Skopje abandon its current formal name, Republic of Macedonia, arguing it implies it is making territorial claims on a northern Greek province.
UN-sponsored talks have so far failed to foster a breakthrough.
Yesterday, Macedonian Prime Minister Nikola Gruevski congratulated George Papandreou, the leader of the Greek Panhellenic Socialist Movement, PASOK, on his party's victory in Greece's October 4 national election.
"I hope that, in the time ahead, we will successfully strengthen the good neighbourly relations and friendship between our countries, based on mutual respect and appreciation," Gruevski wrote to Papandreou. He added that he hoped they would meet soon.
Last year, relations soured after Athens blocked Skopje's NATO entry, pending the resolution of the name spat. Greece, led by outgoing PM Costas Karamanlis, also threatened to block Macedonia's EU integration if a solution was not found to the dispute.
Some local analysts regard Papandreou as a more pliant and moderate leader than his predecessor. They argue that, although the fundamental Greek policy positions on this issue are unlikely to change, Papandreou, with his milder approach, could at least foster the technical aspects of the UN talks.
From 1999 to 2004, when Papandreou headed the Greek Foreign Affairs Ministry, relations between the two countries were warmer than at any other period during the 18-year naming row.
Currently, the UN talks are in hiatus, due to the Greek elections.
According to reports, proposed variations on a compromise compound name, based on Northern Macedonia, are still on the table. Once a compromise is reached on the name formulation, an agreement also needs to be formed on the duration of the use thereof.