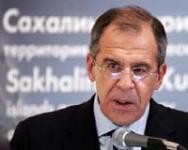 Russia will defiantly support Serbia at the International Court of Justice's hearing on Kosovo's declaration of independence, Foreign Minister Sergei Lavrov says.
Serbia filed a case against Kosovo after its unilateral declaration of independence in February 2008. The International Court of Justice hearing, which is to probe the legitimacy, or otherwise, of the declaration, will begin on December 1.
Lavrov said that Russia has joined "many other countries" in submitting "documents to the international court, to be considered in Serbia's lawsuit against Kosovo's unilateral declaration of independence".
Lavrov claimed that the Pristina government has acted in an "unconstructive" manner, obstructing "the coordination of reasonable arrangements between Belgrade and international factors that work in Kosovo".
Lavrov also raised his country's concerns over speculation regarding the putative future unification of Kosovo and Albania, sparked by Albanian Prime Minister Sali Berisha's August comment that: "the Kosovo prime minister, Hashim Thaci, and I will work toward removing all barriers that keep Albanians from feeling like a union, no matter where they live".
Lavrov said: "We are convinced that there should be appropriate feedback [regarding] the statement […] from the EU, and from NATO as well. We haven't had such feedback yet. We hope that, despite the fact that no public statements have come from European capitals, negotiations with Albanian authorities [on Berisha's comment] are under way."
Russia and Serbia continue moves to strengthen their bilateral relations, ahead of Russian President Dmitry Medvedev's visit to Belgrade on October 20.