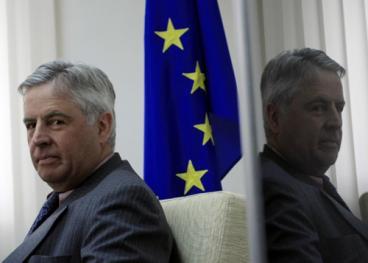 EU Special Envoy to Kosovo Pieter Feith has called on Serbs to participate in the local elections in Kosovo scheduled for November 15.
Feith expects higher turnout in this election, adding that the results will have to be honored.
"According to polls, we expect higher turnout this time round. The local elections are a good chance for the Serb community to grab its rights to autonomy in municipalities with a Serb majority," he said.
"If only a small number of people vote, that chance will be lost, because the authorities in these areas will be taken over by the Albanian community," Feith said.
Ranđel Nojkić from the Serbian Renewal Movement also believes Serb turnout will be higher this time.
He said that these elections were of vital importance to Serbs in Kosovo and their survival in the province.
"Interests and the functionality of Serbian institutions in Kosovo are protected in the institutions. That is the basic problem of closing these institutions. If we do close them this way, then I don't know how we will be able to function," Nojkić said.
"That is the main reason I said that we should participate in these elections," he added.
Nojkić reiterated that participation in the Kosovo institutions did not equate to recognition of Kosovo's independence.