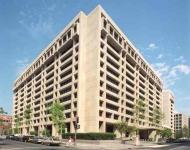 The governor of the National Bank of Serbia, Radovan Jelasic, says that the IMF is ready to help Serbia, but "only if there is serious reform".
Following the conclusion of the annual IMF-World Bank meetings in Istanbul, the Serbian government has less than three weeks to decide on how to cut its spending over the next year, local media report.
"They [IMF/World Bank] wish to see credible reform that is not based merely on promises, but rather reform that will […] show to what extent expenditure will be reduced – should it be exclusively about the spending side, not income," broadcaster B92 quoted Jelasic as saying.
Some 15,000 people, from 186 countries, attended the Istanbul meetings. The Serbian delegation included Jelasic, Finance Minister Diana Dragutinovic and Economy Minister Mladjan Dinkic.
"If the Serbian delegation has a concrete plan for decreasing expenses, we will support it, if not, they will have to agree with us and think about increasing taxes," IMF Deputy Director for Europe Paul Thompson said earlier, referring to the Serbian deficit.
Dinkic said Tuesday that the World Bank will approve a $400 million (271 million euros) loan to assist the Serbian budget.
In an interview with Tanjug news agency, he explained that $200 million (135 million euros) will be provided for this year's budget, while the remaining $200 million is earmarked for next year. The World Bank's board of directors is expected to approve the loan for the 2009 budget on November 17, he added.
Dinkic added that the Serbian government plans to finish work on the Pan-European highway, Corridor 10 project by spring 2012.
In Istanbul, Dragutinovic met World Bank Vice-President for Europe and Central Asia Philippe le Houerou. They agreed that the only condition Serbia will have to fulfil in order to receive the loan is to sign on to an IMF programme.