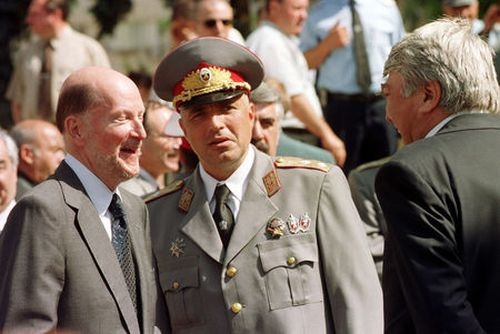 Bulgaria's Prime Minister has made it clear he will not nominate former Tsar Simeon Saxe-Coburg for the race for the soon-to-be-created post of European Union President.
Boyko Borisov, who once served as a bodyguard to the former Tsar and Prime Minister Saxe-Coburg, vehemently opposed the suggestion made earlier in the week by former Foreign Minister Solomon Passy.
"This issue has been decided by another race that took place a few months ago," Boyko Borisov commented, referring to the general elections in July when his party GERB swept an overwhelming victory.
"He [Simeon Saxe-Coburg] threw me out on the street and left me alone," Borisov, who was also former Chief Secretary of the Interior Ministry, commented.
Bulgaria's last Tsar, Simeon Saxe-Coburg, who also served as the country's prime minister in 2001-2005, was surprisingly tipped to become the European Union's President by Solomon Passy, honorary president of the Atlantic Club in Bulgaria and former foreign minister.
"There are just a few personalities in Bulgaria, which are suitable for the post. One of them certianly is Simeon Saxe-Coburg. Even when he was still a prime minister of a country non-member of the European Union, he was called Mr Europe," Passy said on Tuesday.
Passy did not hesitate to draw parallels with the unexpected election of Bulgarian Irina Bokova as UNESCO Director General.
"This example shows that if the country has no problem to nominate a candidate to lead an organization of 200 nations, there should be no obstacles to pick a runner for the presidency of a family made up of 27 countries," he commented.
Simeon Saxe-Coburg was Tsar of Bulgaria between 1943 and 1946 when at the age of eight he was exiled by the communist regime to Spain, where he spent most of his life.
Saxe-Coburg became Europe's only ex-monarch to be elected prime minister after sweeping the polls in June 2001. At the time of his election Saxe-Coburg promised to bring about a substantial improvement in living standards within his government's first 800 days in office.
In 2005 the former Tsar's party lost the elections to the Bulgarian Socialist Party, but later joined the governing three-way coalition as a junior partner.
In the latest general elections in July his party failed to make it to the next parliament after garnering no more than 2,9% of the votes, which prompted the resignation of its leader.
The president of the European Union will be appointed by the heads of state of the 27-nation bloc after a new EU reform treaty is signed and ratified. That process received a major boost this weekend with approval from Irish voters.
The powers of the new position remain unspecified and to a large extent it will be defined by the first person in the role. A key question is whether that will be a largely unknown bureaucrat or a luminary.
Former British Prime Minister Tony Blair tops the list of prospective presidential candidates, along with outgoing German Foreign Minister Frank-Walter Steinmeier, Greek Foreign Minister Dora Bakoyannis, former Austrian Foreign Minister Ursula Plassnik, Dutch Prime Minister Jan Peter Balkenende, Luxembourg Prime Minister Jean-Claude Juncker and former Finnish Prime Minister Paavo Lipponen.
The new president will be selected during private conversations among the leaders of the 27 EU nations without any public review.