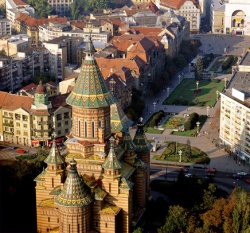 Bulgaria is going to open a consulate in the city of Timisoara in the first half of 2010 in order to strengthen its economic relations with Western Romania.
This has been announced by Bulgaria's Consul in Bucharest, Yavor Stoyanov.
Stoyanov met Thursday with the local authorities in the western Arad District as a preparation for boosting the relations with that part of Romania. The local authorities have expressed interest in cooperation with Bulgaria and attracting Bulgarian investors.
Arad, which is located in the geographic region of Banat, has a historic Bulgarian minority similar to the ones in Moldova and Ukraine of descendants of Bulgarians who the Ottoman Turkish troops in the 17th and 18th centuries.