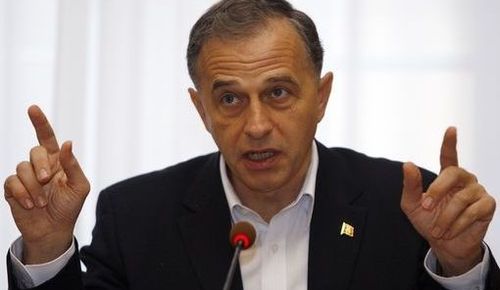 The cabinet of Romanian prime minister Emil Boc could be counting its last days in government, facing a motion of no confidence on October 13. The motion is expected to be backed by the Social Democrats, who withdrew from government on October 1.
Social Democrat leader Mircea Geoana, who is running for president against incumbent Traian Basescu, seen as the unofficial leader of Boc's Democrat-Liberal party, said that his party planned to voted against the cabinet.
"I hope that the Basescu-Boc regime will get a much-needed lesson next week," Geoana said, as quoted by Romanian daily Evenimentul Zilei.
Geoana's Social Democrats quit the government coalition after Boc sacked interior minister Dan Nica, who had earlier made veiled accusations that Basescu and his party would attempt to defraud the presidential elections on November 22.
Even if Boc's cabinet loses the vote, Basescu is free to give the government mandate to a parliamentary party of his choice, which means that he could once again designate the Democrat-Liberals to form the cabinet.
Any cabinet line-up put forth by the Democrat Liberals is unlikely to win the support of the Social Democrats, who left the government coalition after only nine months, or the third-largest party in parliament, the National-Liberals, with whom Boc's party governed in 2005/07. The alliance between the two parties broke over the acrimonious relationship between Basescu and National-Liberal prime minister Calin Popescu Tariceanu.
The National-Liberals have asked the president to nominate a non-partisan prime minister, who would be allowed to assemble a team of technocrats. Long-serving central bank governor Mugur Isarescu, confirmed by parliament for another five-year term earlier this week, and Klaus Johannis, the widely-respected mayor of the town of Sibiu, have been mooted as possible caretaker prime ministers. Isarescu served one year as an interim prime minister in 2000.