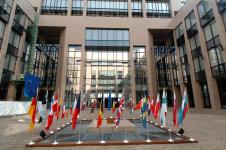 The new head of the European Commission, EC, delegation in Serbia, Vincent Degert, says the EU-Serbia Interim Trade Agreement may be unblocked this year.
The deal is part of the Stabilisation and Association Agreement, SAA, signed last spring and immediately suspended due to the Netherlands' strong opposition. The Dutch are vehemently opposed to unblocking the deal before war crimes fugitives Ratko Mladic and Goran Hadzic are delivered to the International Criminal Tribunal for the former Yugoslavia, ICTY.
"I think we can be reasonable optimists and expect that the EU Council of Ministers will unblock the SAA, if the forthcoming mission of Hague Prosecutor Serge Brammertz brings good results," Degert said in an interview with daily Blic.
Brammertz is scheduled to visit Belgrade from November 2- 3 to discuss all aspects of Serbia's cooperation with the ICTY.
Degert pointed out that it is up to Serbia to prove it is doing its utmost to arrest Mladic and Hazic. He said that the visits of Brammertz and Dutch Foreign Minister Maxime Fehragen to Serbia could lead to the unfreezing of the SAA.
When he was recently appointed as the new head of the delegation, Degert said that his mission is to assist Serbia in its efforts to join the EU and to strengthen the relations between the two parties.
Serbian Foreign Minister Vuk Jeremic said earlier that his ministry is completely devoted to securing the country's EU candidacy later this year.
When asked to comment on this, Degert said that some EU politicians have already pointed out that the EC and EU Presidency's stance on the matter should be considered. However, he added that it is not up to him to give advice on such an important issue.
Degert says the the EU plans to provide another €1 billion in funding to Serbia in the next five years.
"The EU wants Serbia to join it and we are investing to prepare it for that. We are investing in projects that should prepare the economy for joining the single EU market, and that is difficult," the daily quoted Degert as saying.