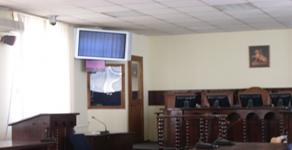 Kosovo's judicial watchdog has suspended a judge after he revealed details of private deliberations in the trial of three former members of the Kosovo Liberation Army, KLA.
The Kovovo Judicial Council's, KJC, disciplinary committee has suspended Rrahman Retkoceri without pay after reviewing his public statements regarding the controversial Llapi Group trail.
Judge Retkoceri was part of a three-man panel, including two EU rule of law mission, EULEX, representatives, which handing down jail terms to Latif Gashi, Nazif Mehmeti and Rrustem Mustafa for war crimes committed during the conflict in Kosovo.
Speaking to Pristina dailies Epoka e Re and Lajm following the decision, Retkoceri revealed that he was against convicting the men but had been outvoted by his international colleagues.
According to the newspapers, he claimed the decision was unjust and unlawful. He later claimed that he had issued those statements under threat.
The trio, known as the Llapi Group, were found guilty of torture and the inhumane treatment of prisoners at camps in the hills of northern Kosovo, near Podujeve/Podujevo.
Senior Kosovo Albanian politicians have criticised the verdict, with some even claiming it was politically motivated.
This has been dismissed by EULEX. Christophe Lamfalussy, EULEX's press head, claimed that the judge's comments demonstrated that Kosovo's judiciary "does not appear to have sufficient protection from outside interference".
EULEX had called on the KJC to take appropriate action against Retkoceri.
In a disciplinary hearing on Friday, the KJC found that the judge had "committed a grave breach of the Code of Ethics and Professional Conduct for Judges", in deciding on his suspension.
Mustafa, known as Remi, was a senior commander in the former KLA and is now an MP for the ruling Democratic Party of Kosovo, PDK, and chairperson of the Interior Affairs and National Security Committee in parliament.
Gashi was sentenced to six years in prison, Mehmeti three and Mustafa four years. All three have appealed.