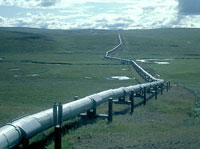 Romania is interested in the South Stream project, Aleksei Miller, the head of Russia's Gazprom said October 8. There were no talks conducted with Romania on the subject before. If Bucharest agrees, Russia will obtain more opportunities to implement the vital project.
"It goes about the opportunity to build a gas pipeline branch to Romania," Miller said at the World Gas Congress in Argentina.
Until recently, Romania was not a member of the project, the official said. That is why, it only goes about the gas pipeline branch. The main pipe will be build along the bottom of the Black Sea from Russia's Novorossiisk via the economic zones of Turkey and Bulgaria. The line will go to Serbia, Hungary, Austria, Croatia, Slovenia, Greece and Italy.
For the time being, it is not clear where the pipeline is going to be built. The entire project is being executed to secure Europe against the troubles with the shipments of the Russian gas via Ukraine.
The administration of Bulgaria supported the project enthusiastically before the summer of 2009, after the nation was seriously affected with interrupted deliveries of gas last winter. However, the state of affairs in Bulgaria took a different turn after the change of authorities in Sofia.
On July 13, Bulgaria suspended its participation in the project. The Bulgarian administration signed an agreement about the construction of the Nabucco pipeline, which would bring the Asian gas to Europe bypassing Russia. However, the nation did not refuse from its participation in the South Stream project.
The Bulgarian prime minister claimed that the contracts for the construction of the Russian pipeline should be investigated to find out a possible corruption constituent. Finance minister stated that Bulgaria could not afford the funding of such large-scale projects like South Stream because of the financial crisis.
Russia was forced to look for a different partner against the background of such circumstances. Romania seemed to be the only option. This nation also sits on the western coast of the Black Sea. However, Romania's stance on the situation with Moldavia differs from Russia's approach to the issue, which could probably generate a problem for the nation's participation in the Russian project.
Moscow supports Moldavia's integrity and independence, whereas Romanian President Traian Basescu openly referred to Moldavia as the second Romanian state and propagated the unification of the two countries.
However, Romanian officials have not released any statement to criticize Russia's foreign policies lately. President Basescu urged the European Union during the Russia-EU summit in May to attract Russia to various projects. Romania's Ziua 9 newspaper wrote that Romania supported Russia in its refusal to recognize the independence of Kosovo.
Therefore, there are no serious obstacles for Romania to join Russia's South Stream project. If Bulgaria continues to delay its reply about the Russian project, Russia will most likely build the pipeline branch in Romania and then to Europe.