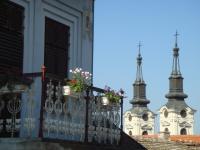 Serbia's Justice Ministry has announced that the Constitutional Court will be relocated from Belgrade to the town of Sremski Karlovci in 2010.
In an interview with Tanjug news agency, the ministry's state secretary, Slobodan Homen, explained that the decision comes as part of a wider effort to decentralise the state and its organs.
"It is important for some of the smaller places in Serbia to have high-level state institutions, as is the practice in Europe," he said.
This will be the first time in Serbian history that an institution of such significance has been moved from a capital. The Constitutional Court of Serbia does not have its own building, with the offices of the Public Attorney and Education, Health and Justice ministries also situated in the same building.
Some other European countries' constitutional courts are also situated outside their capitals. The Slovakian Constitutional Court sits in Kosice, the German in Karlsruhe, the Czech in Brno, and Russian in Saint Petersburg.
The Serbian Constitutional Court will only be able to conduct sessions in Sremski Karlovci once the material and technical conditions for relocation are met – which Homen expects to happen in 2010.
The relocation of the Constitutional Court is in accordance with the Law on Constitutional Court Amendments, which will be sent to parliament for adoption by the end of October, Homen said.
He added that, under the proposed amendments, the court could sit as an eight judge panel.