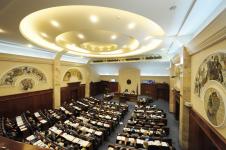 On Tuesday, the Macedonian parliament will debate an opposition motion of no confidence in Interior Minister Gordana Jankulovska and Transport Minister Mile Janakieski.
The motion was filed by the main opposition party, the Social Democrats, SDSM, which is seeking to hold the two ministers responsible for the September 6 tour boat accident on Lake Ohrid, in which 15 tourists from neighbouring Bulgaria lost their lives.
The chances for their removal are slim as the ruling centre-right VMRO-DPMNE party and its coalition partners hold a stable majority in parliament.
Janakieski tendered his resignation shortly after the accident, citing ethical reasons, but Prime Minister Nikola Gruevski refused to accept.
So far, only the boat's captain has been detained and investigated in connection with the accident. A probe has shown that the small tour boat had more passengers on board than was allowed and may have capsized due to this overloading.
"In a serious and democratic country, the skipper of the boat is not the only one held accountable for a tragedy that left 15 people dead" the SDSM said in a press statement.
The party argues that the two ministries had to ensure beforehand that all regulations regarding the safety of travel were being met.