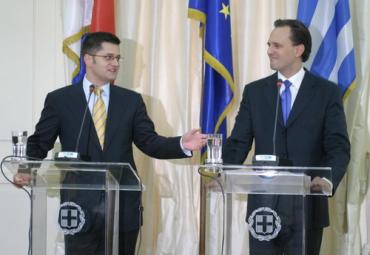 Greece is proposing a new EU membership road map for the Western Balkans states, which would make them fully-fledged members by 2014.
Foreign Minister Vuk Jeremić said that Greek Prime Minister George Papandreou had outlined the plan to him yesterday. "It was a great honor to be the first representative of a foreign country to speak to the new prime minister of Greece," he said.
Jeremić recalled that the Thessaloniki Agreement had been reached in 2003 when Greece had chaired the EU with Papandreou as foreign minister. The agreement guarantees a European future to the countries of the Western Balkans.
He earlier met with Acting Greek Foreign Minister Dimitris Droutsas, who also informed him of a new road map for the countries of the Western Balkans.
"Greece and Serbia share the same vision of Southeast Europe, which is to become a region of peace and prosperity and a part of the EU," Droutsas stressed.
"This process should be complete by 2014 because that's the 100th anniversary of the start of the First World War," explained the minister.
In his opinion, the EU is "the biggest peace project ever, and Greece wants to share the same values and resolve open questions by consensus."
Jeremić stated that the Serbian government's strategic priority was EU membership and that he was grateful to the Greek government for its support and that he would accept the new road map for the Western Balkans with great enthusiasm.
He echoed Droutsas' own views on the EU, adding that the Western Balkans would resolve its problems in the same manner.
"One of the basic elements of the EU's success is the way decisions are made, by consensus," said Jeremić.
Asked about the government's activities to arrest Ratko Mladić, he stressed that the government was doing its utmost to achieve full cooperation with the Hague and that the result of that cooperation could be unfreezing of the EU integration process.