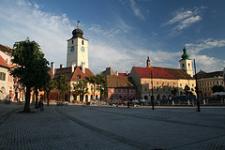 Romanian opposition parties agreed on Wednesday to nominate the mayor of Sibiu, Klaus Johannis, for the prime minister's office, following Tuesday's collapse of the Democratic Liberal government.
The Social Democratic Party, PSD, Liberals, PNL, and ethnic Hungarian UMDR party were unanimous in deciding to put their collective political weight behind Johannis, arguing he is "politically independent and has already proved his qualities as a manager and public servant".
Johannis, 50, heads the Democratic Forum of Germans in Romania, FDGR. He is the first ethnic German mayor of a Romanian city since the collapse of communism in 1990. His leadership has seen the restoration of Sibiu's municipal infrastructure.
Sibiu was declared a European Capital of Culture in 2007.
Romanian Prime Minister Emil Boc's minority centre-right government collapsed after losing a no-confidence vote in parliament.
The motion was brought by opposition parties, who blamed the government for burgeoning unemployment and falling wages, and was carried by 258 votes to 176.
The Democratic Liberals will continue to govern with limited powers for a period not exceeding 45 days, during which President Traian Basescu will decide on a replacement administration.
The collapse of the government comes as the country prepares for a presidential election, scheduled for late November.