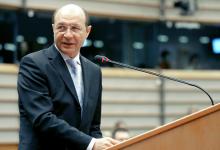 Romanian President Traian Basescu has nominated respected economist Lucian Croitoru for the office of prime minister, having rejected the candidate proposed by opposition parties.
"We need a person with experience in dealing with banks and international economic and financial institutions," Basescu said, adding: "Mr. Croitoru is also politically independent and able to address the economic crisis the country is going through."
Croitoru, 52, is an adviser to the Central Bank governor and has ties to the Democratic Liberal party, PDL.
According to preliminary assessments, it appears unlikely that Croitoru's candidacy will secure the backing of the legislature as opposition parties, which hold around 65 per cent of parliamentary seats and have already proposed an alternative nominee.
The opposition agreed on Wednesday to nominate the mayor of Sibiu, Klaus Johannis, for the prime minister's office, following Tuesday's collapse of the PDL government
The Social Democratic Party, PSD, Liberals, PNL, and ethnic Hungarian UMDR party were unanimous in deciding to put their collective political weight behind Johannis, arguing he is "politically independent and has already proved his qualities as a manager and public servant".
Basescu has said that the best option for ending the current political crisis would be the establishment of a national unity government backed by all the main political groupings. The new coalition should include the ousted PDL and their former coalition partners, the PSD, he said.
Romanian Prime Minister Emil Boc's minority centre-right government collapsed after losing a no-confidence vote in parliament.
The motion was brought by opposition parties, who blamed the government for burgeoning unemployment and falling wages, and was carried by 258 votes to 176.
The PDL will continue to govern with limited powers for a period not exceeding 45 days, as Basescu looks to forge a replacement administration.