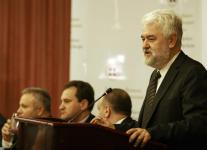 Serbia's premier and foreign minister, Mirko Cvetkovic and Vuk Jeremic, have expressed their satisfaction with the annual European Commission, EC, report on their country's reform progress.
The report states that Serbia has maintained its European orientation and improved cooperation with the International Criminal Tribunal for the former Yugoslavia, ICTY, despite the fact that fugitives Ratko Mladic and Goran Hadzic remain at large.
Cvetkovic has described the report as "good news" for Serbia as it looks to shorten the time required to acquire the status of an EU candidate state.
The head of the EC delegation in Serbia, Vincent Degert, presented the report to the prime minister yesterday.
"The Serbian government has shown its dedication to bringing the country closer to the EU; achieving good results in the implementation of provisions of the transient agreement with the EU; and conducting key reforms in line with European standards," daily Blic quoted Degert as saying.
The European Parliament is scheduled to vote on Serbia's inclusion on the Schengen White List in November, but the EU Council of Ministers has the final say.
Cvetkovic has expressed his hope that the EU Council will aprrove the EC proposal to allow Serbia's citizens visa-free access to EU states.
Jeremic stressed that there is still a lot to be done in order for Serbia to fulfil all the conditions for EU membership. "We will stick to this road and we are determined to move ahead," he was quoted, by Fonet news agency, as saying.