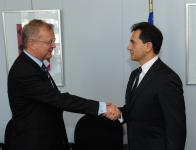 Deputy Prime Minister Bozidar Djelic says that Serbia will consider applying for EU membership unless the EU unblocks the Interim Trade Agreement soon.
"If in October and December there is no progress, and the trade deal isn't applied, the agreement with the EC and our European partners is to review the situation and take a decision on applying for membership," Djelic said.
The European Commission, EC, in its annual report on prospective EU member states, has called on the EU to unfreeze the deal.
The trade pact is part of the Stabilisation and Association Agreement, SAA, signed last spring and immediately suspended due to the Netherlands' strong opposition.
The Dutch are opposed to unblocking the deal before war crimes fugitives Ratko Mladic and Goran Hadzic are delivered to the International Criminal Tribunal for the former Yugoslavia, ICTY.
EU Enlargement Commissioner Olli Rehn said Wednesday that, as a commissioner, he has to be an optimist regarding the possibility that the Dutch may change their stance. When this question will put on the European Council agenda, depends on the EU Presidency, he added.
Djelic expressed his satisfaction with the EC report, which he says could speed Serbia's acquisition of the status of an EU candidate state.
Serbia's Foreign Affairs Ministry announced in September that Serbia is completely committed to securing the country's EU candidacy later this year.
However, Djelic said at that point that a candidacy request would require a consensus among EU member states.
"Serbia's priority at the moment is the implementation of the SAA, but, for that to happen, Serbia needs to continue cooperating with the Hague Tribunal," he said.