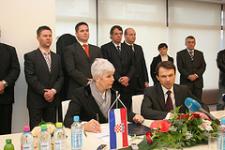 Egypt and Croatia agreed to bolster cooperation over the weekend, according to a Croatian government communiqué, released to mark the visit of Egyptian President Hosni Mubarak to Zagreb.
According to the statement, the sides "agreed to achieve closer cooperation" in the energy and tourism sectors, AFP reports.
The Egyptian leader arrived in Zagreb on Friday and held talks with President Stipe Mesic before meeting Premier Jadranka Kosor on Saturday.
Quoted by Croatia's Hina news agency, Mubarak praised Croatian investments in gas and oil research in his country during his meeting with Mesic, adding: "I expected that this visit will give a new impetus to our cooperation in these areas, but also others."
AFP reports that Kosor proposed that the two countries become involved in new areas of cooperation, including shipbuilding and the food industry.
Egypt constantly struggles to feed its burgeoning population and is having trouble balancing a need to lower food and fuel sudsidies with the resultant social foment rising prices cause.
The Croatian Times reports that Kosor accepted an invitation from Mubarak to visit Egypt in the near future. The Croatian prime minister said that, as a future EU state, her country supports Mediterranean cooperation.
Bilateral trade between Egypt and Croatia rose 55 per cent in 2008 to 55 million euros, 80 per cent of which were Croatian exports, AFP reports.