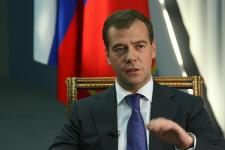 Serbia will welcome Russian President Dmitry Medvedev on Tuesday with a concert by 100 trumpeters in Belgrade's Trg Republika Square.
Medvedev will be accompanied by a circa 100-strong delegation of associates, ministers and significant businesspeople. The delegation will include: Foreign Minister Sergei Lavrov, Extraordinary Situations Minister Sergei Shoigy, Gazprom President Sergei Mueller, Russian Railways Director Vladimir Jakunin, and the directors of Moscow Bank and Lukoil.
At first, Medvedev will hold a one-on-one discussion in Serbia Palace with President Boris Tadic. The Serbian and Russian delegations will then attend a ceremony for the signing of bilateral agreements, the Serbian Foreign Ministry has announced.
Afterwards, Medvedev, accompanied by Belgrade Mayor Dragan Djilas and a representative of World War II veterans, is scheduled to lay a wreath at the grave of Belgrade's war-time liberators.
Parliamentary Speaker Slavica Djukic-Dejanovic and Russian Ambassador to Serbia Aleksandr Konuzin have confirmed that the Russian president will address the Serbian parliament during the afternoon. The planned address is supposed to last around 30 minutes, after which an official reception in the parliamentary hall will be held in which MPs will get to talk with the Russian leader.
According to Medvedev's spokesperson Nataliya Timakova, his speech in the Serbian parliament will confirm that "there are some special relations between Serbia and Russia."
"This will be the first speech of a Russian head of state in the Serbian parliament, which testifies to the existence of special relations between Serbia and Russia, as no head of state ever addressed the national assembly," she explained.
During the afternoon, Medvedev is also scheduled to hold a meeting with top Serbian Orthodox clergy.
The evening is reserved for a ceremony marking the 65th anniversary of the liberation of the city at the Sava Centre. The two presidents are set to give speeches at the event.
The Serbian government has reportedly formed a special body, consisting of the most experienced members of various services, to work on security preparations for the president's visit.