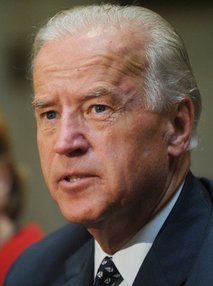 Vice President Joe Biden heads to eastern Europe Tuesday to meet key US allies, after a decision last month to shelve a Bush-era missile shield initially angered Poland and the Czech Republic.
Officials deny that Biden is being sent on a mission to pacify the two US partners, on a trip also including Romania. They also say that the US desire to "reset" ties with Russia will not come at the expense of existing allies.
President Barack Obama announced last month that he would replace the anti-ballistic missile shield envisioned by his predecessor George W. Bush, which was to have been partly based in Poland and the Czech Republic.
"The more allies heard and discussed what we are proposing, the stronger their support," said Tony Blinken, Biden's top national security advisor.
Blinken blamed intense early disappointment in Warsaw and Prague following Obama's announcement on misleading media coverage.
"It was unfortunate that some of the initial headlines talked about the US abandoning missile defense in Europe," Blinken told reporters on a conference call.
"It is exactly the opposite; the approach we are taking strengthens missile defense in Europe."
Obama decided to develop a more mobile system, initially based at sea, targeting short- and medium-range Iranian missiles which intelligence analysts now believe pose more of a threat than yet-to-be developed long-range weapons.
Last week, a US defense official said Washington will deploy ground-to-air Patriot missiles in Poland in 2010 and had given Warsaw the chance to host land-based SM-3 missiles for the new European shield system.
Some commentators in Poland and the Czech Republic accused Washington of selling out the two ex-Warsaw Pact countries to a belligerent Moscow, pointing out the US allies had taken risks to back the plan under the Bush administration.
Biden is set to leave Washington on Tuesday and arrive in Warsaw late the same day at the start of the three-day trip to the NATO allies, the latest high-profile foreign policy mission for the vice president.
On Wednesday, he will meet US embassy staff, hold a working lunch with Polish Prime Minister Donald Tusk and then see President Lech Kaczynski before leaving for Bucharest in the evening.
On Thursday, Biden will hold talks with Romanian President Traian Basescu and also see Prime Minister Emil Boc, deliver a speech focused on US relations with central Europe, and meet leading opposition leaders.
On Friday, Biden will be in Prague and hold talks with Prime Minister Jan Fischer and President Vaclav Klaus, and will meet key opposition leaders before returning home to Washington.
"Our ears are open," Blinken said, adding that US decisions on missile defense and Russian relations were taken with full consultation and discussion with US eastern European allies.
"We're making decisions with them, and that's the principle we're proceeding on, and we look forward to hearing all of the ideas that they have on this trip and any concerns they may have."
Biden also hopes to play on the symbolism of the 20th anniversary of the fall of the Berlin Wall, Blinken said.
"The Vice President is going to mark the moment, but his focus is going to be much more on the future than on the past.
"In his view, the real validation of 1989 is less in what we took down and more in what we built, and continue to build together — strong democracies, strong partnerships that deliver for people in all of our countries and beyond.
Biden will also discuss energy security and combating climate change with the three governments, as well as trade and investment as the global economy emerges from the worst economic crisis in decades.