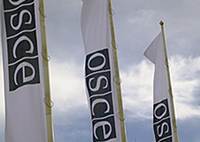 Kazakhstan intends to pay special attention to so-called frozen conflicts during chairmanship in OSCE, Georgian deputy foreign minister, Alexander Nalbandov, said after Georgian-Kazakh inter-ministerial consultations in Tbilisi.
Nalbandov said that the Kazakh side intends to appoint special representative within OSCE. This representative will specially operate to solve conflicts all over OSCE.
As to today's consultations, deputy minister said that it is the second round. The first round was held in Astana. "The Kazakh side got familiarized us with those problems over which it intends to work during OSCE chairmanship," he said.
As to possible establishment of OSCE office in Georgia, Nalbandov said that this issue was not discussed as it is too early to do it before Kazakhstan officially becomes OSCE chairman.