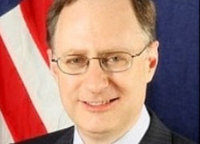 The U.S. does not intend to deploy a missile defense system (MDS) in Georgia, U.S. Deputy Defense Minister Alexander Vershbow said today in Tbilisi.
This statement has been made at a joint press briefing with the First Deputy Minister of Foreign Affairs of Georgia Giga Bokeria on the results of a security working group meeting of created under the Charter of the strategic cooperation between Georgia and the United States.
Vershbow said that the talks on this issue are not held at the moment because "the possible locations of deploying such systems are considered only NATO countries."
The deputy minister stressed that there is a way of cooperation in this matter with Russia and so the talks on other plans are considered, but not held.