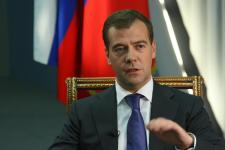 Russian President Dmitry Medvedev is currently holding a one-on-one discussion with his Serbian counterpart Boris Tadic.
The Russian leader landed at Belgrade's Nikola Tesla Airport at around 11am and was transported directly to Serbia Palace where he was welcomed with full state and military honours.
Besides Tadic, the Serbian welcoming committee included Interior Minister Ivica Dacic, Youth and Sport Minister Snezana Samardzic-Markovic and Foreign Minister Vuk Jeremic.
Medvedev is accompanied by a circa 100-strong delegation of associates, ministers and businesspeople. The Russian delegation includes Foreign Minister Sergei Lavrov, Extraordinary Situations Minister Sergei Shoigu, Gazprom President Sergei Mueller, Russian Railways Director Vladimir Jakunin, and the directors of Moscow Bank and Lukoil.
The Serbian and Russian delegations will later attend a ceremony in which a number of bilateral agreements will be signed. The deals cover the areas of culture, science and technology, security, education, air travel and parliamentary cooperation.
During the visit, the two parties will also discuss the Russian provision of a 1 billion euros loan to Serbia. Belgrade plans to spend a third of the sum on covering the state budget deficit.