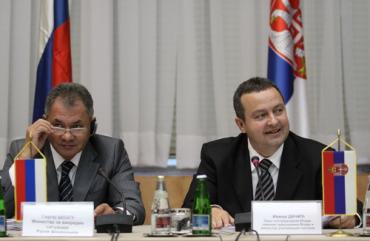 Russian Emergency Situations Minister Sergey Shoigu says that cooperation between Serbia and Russia has made progress, but still has room for improvement.
Shoigu and Serbian Interior Minister Ivica Dačić headed a meeting of an inter-governmental Serbo-Russian committee for trade, economic and scientific cooperation.
After signing a protocol on cooperation, Shoigu told journalists that, in the last year, despite the economic crisis, significant work had been done in both countries.
He said that in addition to the completion of old projects, new plans had been discussed today related to the economy, trade, infrastructure and other sectors.
Dačić and Shoigu said that an agreement would be signed on cooperation in emergency situations, which would include the creation of a regional humanitarian center in Niš.
Dačić said that the Russian side was prepared to participate in infrastructural projects in Serbia, and to help the state budget financially.
The interior minister said that the last year had seen the implementation and ratification of the energy agreement, further development in political relations, adding that the crowning achievement of cooperation between the countries was Tuesday's visit to Belgrade by Russian President Dmitry Medvedev.
He noted that the inter-governmental committee had last met in November 2008, which marked significant progress in bilateral cooperation.