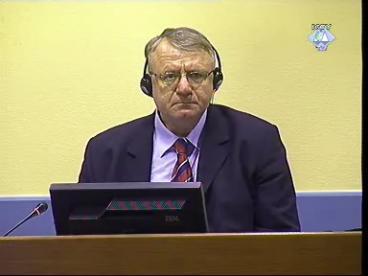 The Hague Tribunal trial chamber has turned down a prosecution motion to impose a defense counsel on Vojislav Šešelj.
"The trial chamber, given the new information, has decided to reject the motion to impose a defense counsel… So, you'll continue representing yourself?" Judge Jean-Claude Antonetti (presiding) asked the Serb Radical Party leader at yesterday's hearing.
Stating that written confirmation of the ruling would be published at a later date, Antonetti recalled that the prosecution had entered the motion in late July last year after Šešelj's alleged obstruction of the trial.
Prosecutors amended the motion in August this year, based on the fact that he had been sentenced to 15 months' imprisonment for contempt of court.
Šešelj welcomed the court's ruling.
"I must confess that I expected that ruling and expected it, because, regardless of all the fuss that I've kicked up, I've never called into question your professional credibility or moral dignity," the accused told the judges.
He stressed that he now expected the trial, which has been adjourned since February, to resume soon and that the prosecution would be instructed to rest its case in the five hours left to them.
The SRS leader is accused of war crimes against Croats and Muslims in Croatia, Vojvodina and Bosnia-Herzegovina in 1991-93.
The trial began in November 2007, before being suspended in February at the prosecution's request, in order to investigate claims by one of the last ten witnesses that he had received threats.
The investigation into these threats is confidential, which is why no information on the case has been released in public.
In mid-August, Šešelj asked the trial chamber to review its decision to adjourn the trial.
Yesterday, Hague Chief Prosecutor Serge Brammertz told foreign correspondents in The Hague that there was still "no clear response" regarding the resumption of Šešelj's trial, as the "court is looking into the matter."